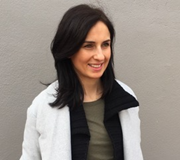 Joint keynote: REBT with Women: theory and practice
Date: 30 November, 2021 – Time: 10.00 – 10.45 GMT
Joint Keynote speaker: Dr Kathryn Gilson DPsych (Clin), MAPS (CClin) with Assoc Prof Monica O'Kelly PhD
---
The roles and expectations of women have undergone immense change over the past decades. Wolfe and Naimark (1991) built on Ellis' theory of how emotional disturbance develops by proposing that if a woman held rigid, demanding views of her role, she would be emotionally distressed. This paper discusses best-practice REBT-based assessment and treatment techniques and proposes treatment guidelines to inform best practice in REBT with women. The keynote paper summarises what we have learned about using REBT with women, noting that challenging sex role demands held at the individual, family and society level as being key to helping a female client.
---
Dr Kathryn Gilson is a clinical psychologist with a Doctorate in Psychology (Clinical Psychology), Monash University. She holds an adjunct lecturer position in the School of Psychology and Psychiatry, Monash University. She is a Clinical Advisor to the WorkSafe Victoria Clinical Panel.
Dr Gilson is also a subject matter expert regarding mental health in the workplace. She has worked in private practice assessing, diagnosing and treating clients with mental health conditions. She has expertise in cognitive behavioural therapy (CBT) (both delivering therapy and training). Kathryn is an Associate Fellow of the Albert Ellis Institute (AEI) and has trained at the AEI, New York. She has co-authored book chapters relating to clinical work. She has also contributed to writing CBT treatment manuals and peer reviewed journal publications. She has presented at national and international conferences, has successful collaborative grant submissions, and has supervised post-graduate students in their research thesis.
---
Affiliations and contact details
Kathryn Gilson DPsych (Clin)
Adjunct Lecturer
Psychiatry Monash Health
Faculty of Medicine, Nursing & Health Sciences
Monash University
Clayton, Victoria, Australia
CBT Australia
32 Balcombe Rd,
Mentone
VIC 3194
kathryn (at) cbtaustralia.com.au
katgilson (at) gmail.com
---